Home of the Small Exotic Cats
Geoffroy Cats, Asian Leopard Cat, Safaris, Bengals, and Egyptian Maus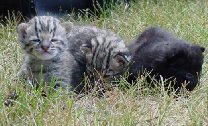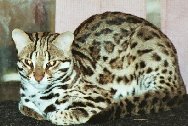 We are a center for small exotic felines where we study breeding, behavior, diet, and the all around well being. We work with other organizations within the United States and around the world to share information and gene pools to keep these animals around for generations to come.
We also support cats in other countries by providing funds for their food and care.
Saturday, August 5th at Monte Sereno, CA, Jim Sanderson, Founder and Director of Small Cat Conservation Alliance shared stories and adventures of tracking tiny wild felines throughout the world. Attendees were able to meet a Geoffroy's cat.
Check out additional information at (wildnet.org)
We only breed Geoffroy Cats, Asian Leopard Cats, Geoffroy Hybrids, Asian Leopard Cat Hybrids, and Bengal Cats.
If you would like to contact us:Cocoa (Colette Griffiths)
Home (Home Index)
©2001 and beyond
All pictures are the property of Cocoa's Pride and not for any other use.